OVER 100 VARIETIES OF FLOWERS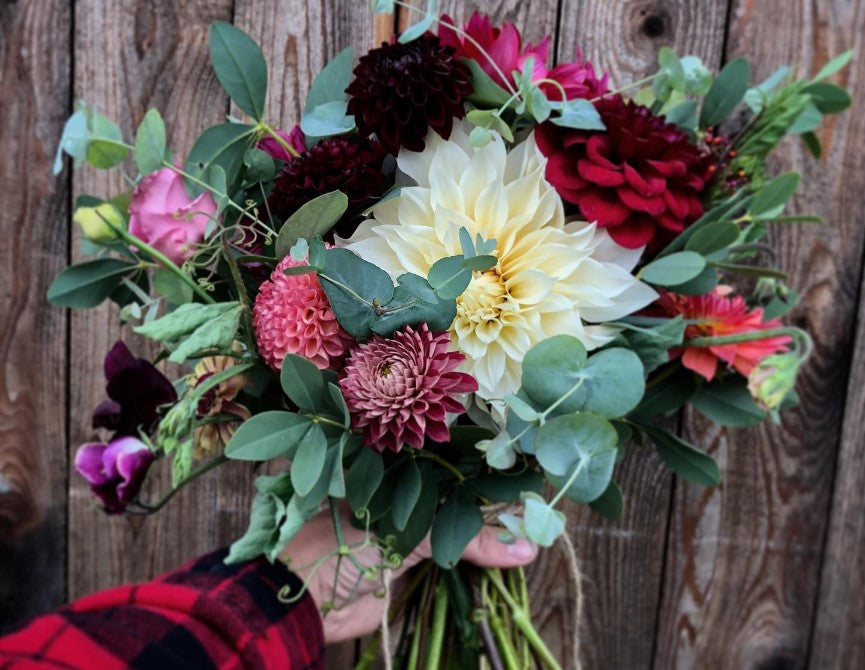 WHAT DO WE GROW?
Within our annuals, perennials, and shrubs, we have a wide variety of branches, foliages, focal flowers, fillers, and supporting flowers, as well as a nice selection of herbs and edible flowers. 
Some of our favourite flowers to grow include Lisianthus, Pansies/Violas, Peonies, Cosmos, Sweet Peas, Stock, Ranunculus, Hellebores, Anemones, Iris, Eucalyptus, and allllll the Spring Bulbs. 
Shop Local
SEASONAL GROWING & DESIGN
Though we like to experiment outside of the seasons, we are a seasonally-driven farm and florist, which means we work with what is in its peak for harvesting from week to week.  Typically, in our climate, we are blooming from May to October, with some seasons extended on each end by our unheated greenhouses. 
In the winter months, we make wreaths and work with dried flowers, and experiment with forcing bulbs and growing indoors.  Our retail shop and floral design studio will be opening in Spring 2023, with limited hours from May through October, then limited custom orders in our off-season. 
HOW TO ORDER
We sell flowers via farmers markets, subscriptions, direct to flower shops and custom arrangements for events.